Honda MSX 125 2021
CHE LA FESTA ABBIA INIZIO
Dal 2013, la nostra MSX Grom (Mini Street X-Treme) è stata la moto preferita di un'intera generazione di giovani motociclisti in tutto il mondo. È facile capire perché: look accattivante, dimensioni compatte, sospensioni e freni da moto vera. Aggiungi un vivace motore da 125 cc ed ecco il partner perfetto per le scorribande in città e non solo. Ma ora la nuova MSX Grom è più potente, ha più stile e una marcia in più!
PICCOLE DIMENSIONI, GRANDE IMPATTO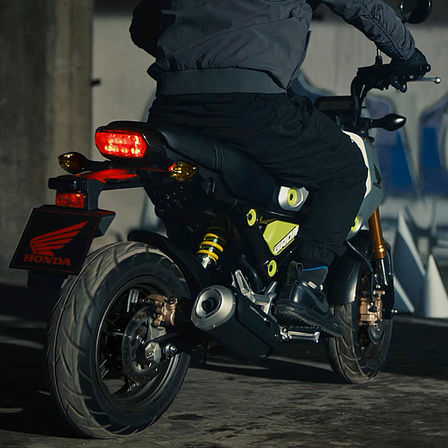 MSX Grom è una moto piccola che pensa in grande. Il nuovo motore da 125 cc, ora conforme alla normativa antinquinamento EURO5, eroga una potenza maggiore, è più efficiente e più pulito. Il cambio, ora a 5 velocità, beneficia di una marcia in più, facilitando i viaggi e gli spostamenti più lunghi. La rinnovata carenatura, dal look accattivante (e facilmente rimovibile), si presta ad infinite personalizzazioni. E, proprio come sulle moto più grandi, ora il cruscotto digitale presenta un contagiri e un indicatore della marcia inserita.
You can follow any responses to this entry through the RSS feed. Both comments and pings are currently closed.
Tagged 125 cc., 4 tempi, honda, msx125 2021, naked